My theater experiences.
THIS PAGE:



Highlights



Milwaukee Rock Theatre



Drakula
Highlights
First Play - DARK OF THE MOON - Hillwood High School; Nashville, TN.

First Lead Part - Jerry in ZOO STORY - Rhodes College; Memphis, TN.
Biggest Part - Jesus in JESUS CHRIST SUPERSTAR - Milwaukee Rock Opera Company.

Worst Performance - Jack in BRIGHTON BEACH MEMOIRS; Milwaukee Players. (The critic was right.)

Best Review - Tom in THE GREAT GATSBY - Milwaukee Players ("There were a few bright spots --most notably Don Linke, who played Tom. Because he was the only actor to show genuine emotion, it had the peculiar effect of making the villain into the drama's most sympathetic character." --Milwaukee Journal)

First Production of an Original Play - SUFFER THE CHILDREN - 1994, Alverno College; Milwaukee Wisconsin
Original Musical - DRAKULA THE ROCK OPERA - Review staged in August of 1997; Milwaukee Rock Opera Company.

Board Member - Milwaukee Rock Opera Company - 1998-2000

Founder/Artistic Director - Milwaukee Rock Theatre - 2002-03

Director - TOMMY, HAIR and the rock musical revue ROCK ON BROADWAY - 2002-03

For the past two years I have devoted most of my creative energies to the running of a new theatre group called the Milwaukee Rock Theatre. It performs rock musicals, rock operas and rock concept albums.

DRAKULA
the Rock Opera
I have written a rock musical based on Bram Stoker's Dracula, entitled Drakula the Rock Opera. The show was previewed by the Milwaukee Rock Opera Company in August of 1997. Audio selections from the show can be reviewed at the Drakula Web site. The full production received its world premier in Rosario, Argentina in October of 2003. Click here to access the Drakula Web page.

DH Movies, Ltd.
I also work with a company called David Lee Hendrickson Movies, Ltd., producing short films and independent feature films. Click here to view the DH Movies Web page.
Home | Art Gallery | Photos | Theater | Piano Music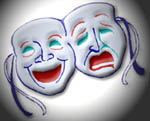 Other Links:



Original rock musicals
on the Web, with
description, comment
and music samples.



Original rock musical
written by myself.

Home



Art Gallery



Photos



Theater



Piano Music